Lite av varje. Mest från dagens Greenie Watch.


* 1 *
Har tidigare nämnt att The Economist
skrev om
att Danmark har stora problem med att avsätta sin vindkraft-el, och därför dumpar den till Norge och Sverige.
Nu står det i självaste
New York Times
:
When the builders of the Maple Ridge Wind farm spent $320 million to put nearly 200 wind turbines in upstate New York, the idea was to get paid for producing electricity. But at times, regional electric lines have been so congested that Maple Ridge has been forced to shut down even with a brisk wind blowing.

That is a symptom of a broad national problem. Expansive dreams about renewable energy, like Al Gore's hope of replacing all fossil fuels in a decade, are bumping up against the reality of a power grid that cannot handle the new demands.

The dirty secret of clean energy is that while generating it is getting easier, moving it to market is not.
En politiker uttalar sig att detta ska lösas genom att bygga nya nät.
Min reflektion är dock att större nät knappast löser all problematik med vindkraft. Effektvariation i vindkraft ska visst samvariera över hela kontinenter, vilket denna graf för Storbritannien och Europa visar (
källa
):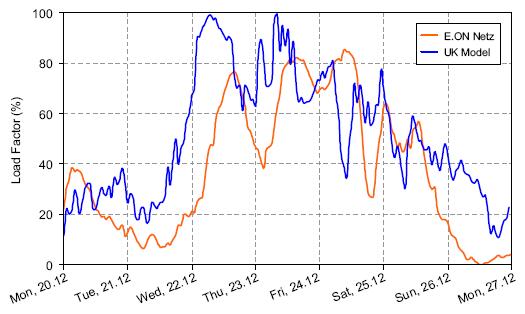 Bilden i New York Times-artikeln lär förresten visa hur svenskar snart kan komma att få det, med även lågfrekvent ljud i takt med hjärtrytm; ett ljud som enligt studier ger sömnproblem och irritation samt tvingat 8 av 10 hushåll att flytta (
källa 1
,
källa 2
).
* 2 *
En f d chef för CSIRO:s avdelning för rymdforskning, Dr Ken McCracken, forskar inom solfysik. Han tror visst på global uppvärmning på grund av oss människor, men skrev visst 2005 att solaktiviteten då den haft ett 1000 års-maximum
borde sjunka
.
"'The reduced 'forcing' might compensate, or over-compensate, for the effects of the increasing concentration of greenhouse gases,'' he said. ''It is likely that there will be a cessation of around 20 years in the increase in world temperature, or possibly a decrease by 0.1 [degrees] or more.'"
Inget alarmistiskt om nedkylning i alla fall. Långt mer än 0.1 graders nedkylning har vi ju redan globalt, och frågan är snarast om den låga solaktiviteten och nedkylningen ska fortsätta? Många forskare tror det (se denna bloggs kategori
"liten istid"
).
* 3 *
Mer
från Australien:
The Carbon Sense Coalition today accused governments and media of spreading myths on the ability of "renewables" to supply Australia's future electricity. The Chairman of "Carbon Sense" Mr Viv Forbes said there was no chance that wind, solar, hydro and geothermal could supply 20% of Australia's electricity by 2020 without massive increases in electricity costs and severe damage to Australia's industry and standard of living. "The belief that we can go further and eliminate coal from our energy supply is a dangerous delusion."
Att detta är ett reellt hot tydliggör fakta om vindkraft jag bloggade
här
. I Sverige har Mona Sahlin denna farliga vision om fossilfritt. Jag tycker det är illa nog med Centerpartiet i alliansen. Vindkraftsatsningen lär kunna kosta 100-tals miljarder. Flera gånger mer än motsvarande kärnkraft, men till ifrågasatt nytta.
* 4 *
Noterar att vårt elpris
stigit
till
rekordnivåer
. Kan Finlands kloka
byggande av kärnkraft
nära Haparanda något lindra våra misstag?
* 5 *
Sist en längre
riktigt bra artikel
av Dennis Avery, publicerad på Center for Global Food Issues, som startar med att påpeka att hysteri om global uppvärmning har fått stora delar av världen i sitt grepp, och ger dessa exempel:
-Climate modelers claim the earth's temperature could be boosted an astounding 11 degrees C by the additional CO2 being released into the atmosphere as humans burn fossil fuels.

-Dozens of major governments have signed the Kyoto Protocol, which essentially promises their countries will give up all "non-renewable" energy sources— virtually all energy sources except solar and wind.

-U.S. farmers are cheerfully sharpening their chain saws to clear more forest and plant more corn for "renewable" ethanol even though the ethanol produces only 50 gallons worth of gasoline per acre, against an annual U.S. gasoline demand of more than 134 billion gallons.

-A Kansas utility has been denied a permit for a new coal-fired power plant by the State Department of Health and Environment, which says it would add too much CO2 to the air.[1]


This is an astonishing set of events, given that there is no evidence human-emitted CO2 has actually raised the earth's temperatures significantly. The evidence we have is a warming, which began about 1850, and mostly occurred too early to be blamed on human-emitted greenhouse gases. The total warming from 1850 to the present has been 0.7 degrees C—but 0.5 degrees of the warming occurred before 1940. Eighty 80 percent of humanity's greenhouse gases emissions came after that date.

The earth's net global warming since 1940, moreover, has been a barely-measurable 0.2 degrees C—over 70 years. During this time the climate forcing power of CO2 molecules has been declining logarithmically, to the point where soon additional CO2 won't make any further climate impact.

The climate warming alarmists say that our recent warming "must be caused by humans," since nothing else would account for the strong warming from 1976–1998. However, there was an equally strong global warming surge from 1916–1940, before global industrialization and auto numbers began to emit CO2 in serious amounts. The fact is that no one can diagnose a climate change on the basis of a mere 25 years of data. Climate events are too long-term, and the short-term events are too complex.
Hela artikeln här!
-------------------------------------------------------------------------------------
Twingly-tillbakalänkning:
* SvD: "Industrin lurar oss att slänga maten"

Andra bloggar om: vetenskap, klimat, klimatet, solen, solaktivitet, klimatförändringar, klimatförändring, vindkraft