Det var nu 20 år sedan James Hansen höll ett berömt tal i kongressen om global uppvärming -- f.ö. 11 år efter Time Magazine hade omslaget ni ser långt ned i denna bloggs meny. Warren Mayer nämner att detta på sina håll uppmärksammats i medierna, men kan som den glädjedödare han tycks vara inte låta bli att lägga in en aktuell temperaturkurva i denna Hansens graf: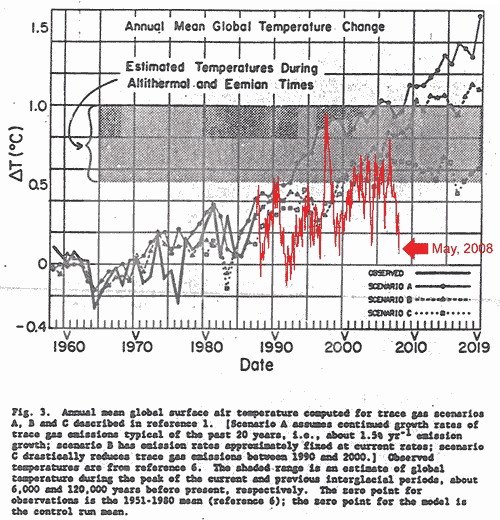 Nåväl. Såg hos Watts att Hansen får rättmätig uppmärksamhet i det att han ska hålla ett nytt tal i kongressen där han lovar att förorda krav på att bolag som släpper ut CO2 ställs inför domstol. Kanske brott mot mänskligheten... [ Uppdatering: Japp. Detta sa han visst i sitt tal:
"CEOs of fossil energy companies know what they are doing and are aware of the long-term consequences of continued business as usual. In my opinion, these CEOs should be tried for high crimes against humanity and nature."

]
Denna ödmjuka hållning finner vi även hos bloggaren Erik Zvensson, som lika lågmält som vanligt undviker Hitler-referenser och sånt extremt när han
påpekar
att de som avvisar hypotesen att CO2 ger katastrofal höjning av jordens medeltemperatur liknar anhängarna av Zions Vises Protokoll.
Men trots all balans och ödmjukhet från AGW:are är britterna -- dessa envisa britter -- i vanlig ordning otacksamma när de nu tydligen
dristar sig att tvivla
. De flesta britter tror inte att CO2 orsakar farlig global uppvärming och endast en försvinnande liten minoritet avser göra något för att motverka global uppvärming. Vilket rättmätigt straff bör FN ge det folket?
-----------
Uppdatering:
Lubos Motl kommenterar
James Hansen, men har en annan syn på vem som borde straffas och varför, och avslutar med denna reflektion:
"There are many things that haven't changed in the last 20 years and many things that have changed. The temperature hasn't really changed. But Hansen's 2008 testimony is slightly different than the 1988 testimony. The 1988 testimony contained at least some (low-quality) science and (wrong) graphs. The 2008 testimony doesn't: it is entirely dedicated to the hysteria, the prosecution of heretics, and to the methods to reverse of the industrial revolution."
-----------
Andra bloggar om: samhälle, politik, miljöpolitik, klimat, klimatet, klimatfrågan, humor, Goodwins lag, alarmism, klimatalarmism, ekofascism